It took some doing, but this is the dataset we've hoped to provide for 7 years.  The need for this website was first driven home to me when I was visiting my family in the Berkshires, and couldn't find anyone who could point me to some small wild trout streams (which abound in MA, but no one seemed to know about them).  In particular, the MDFW website was no help, and the local fly shop wanted to send me to big, stocked water.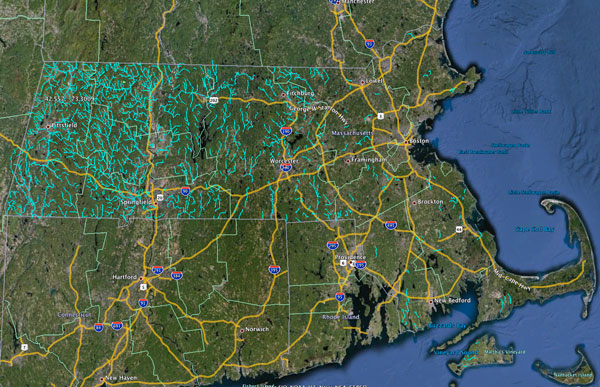 The Coldwater Fish Resources is a newly published list of streams maintained by the Massachusetts Division of Fisheries and Wildlife.  Streams are added to the list if fish surveys discover coldwater species reproducing in the stream.  This includes trout, obviously, but can also include salmon (see warning below) and some non sports species.  This list was first published (as far as I can tell) in 2011.  I discovered a reference to it in a PowerPoint presentation by a fisheries biologist with the MDFW, then stumbled on the listing on the MDFW website.  It provides stream names and an ID number, broken down by major basin, which makes it nearly useless to the angler.
We were able to create the pictured KMZ by joining the ID number in the listing with the ID number of stream segments in a GIS data layer published by the Office of Geographic Information (MassGIS), Commonwealth of Massachusetts, Information Technology Division.  The coverage of this layer missed some small basins, and a few dozen coldwater streams, most of which we were able to place by hand.
PLEASE NOTE: A NUMBER OF WILD TROUT STREAMS IN THE CONNECTICUT BASIN ARE BEING STOCKED WITH ATLANTIC SALMON FINGERLINGS.  SALMON PARR RESEMBLE BROWN TROUT.  WE HOPE YOU'RE PRACTICING CATCH AND RELEASE ANYWAY, BUT BY LAW YOU MUST RELEASE ALL SALMON PARR.  LEARN THE DIFFERENCE HERE.